If you want to take full advantage of your motorized sports vehicle, you must first know how to load and transport it. If you would like to find out more about this, you've come to the right place!
SM Sport, your dealership in the Quebec region, shares with you loads of tips and tricks on towing, the type of vehicle you should choose and the rules and regulations when it comes to transporting an ATV or side-by-side.
Evaluating your towing needs
Before you even think of choosing a vehicle, you must first determine your needs. No, you don't necessarily need a large pickup truck to tow an ATV! There are several options available to you.
First and foremost, consider the weight of your motorized sports vehicle. If you don't have one yet, to have a clearer idea, try to find a model you like. You can then find the necessary information in our 2023 side-by-side or ATV specs sheet.
As a general rule, the weight of an ATV can be anywhere between 440 and 1,100 pounds (200 to 500 kg), while a large side-by-side with doors can weigh up to 2,200 pounds (1,000 kg). As you can see, weight can vary a great deal!
You will, obviously, have even greater needs if you are towing more than one vehicle. This will also influence your choice of trailer, which will have to be designed to fit two vehicles as well.
In your calculations, you also need to take into account the weight of the trailer, which can also vary according to dimensions or type, especially when it comes to if it is a closed trailer or not.
You will want to be precise and realistic: you might not need a huge towing capacity, but you won't want a sedan either…
Demystifying Payload vs Towing Capacity
When shopping for a vehicle, you will see two important numbers: the towing capacity and the payload. These are two very different things, yet they both have to be taken into consideration.
On the one hand, the payload corresponds to the total amount or maximum weight for the people, belongings and cargo inside the vehicle at the same time, including the weight of cargo on the roof as well. This number also takes into account the tongue weight, which represents around 10 to 15 % of the total weight that is being towed.
On the other hand, the towing capacity corresponds to the maximum weight the vehicle can tow. However, both of these numbers cannot be considered independently or separately: their total weight must not exceed the gross combination weight rating of the vehicle, otherwise known as the GCWR.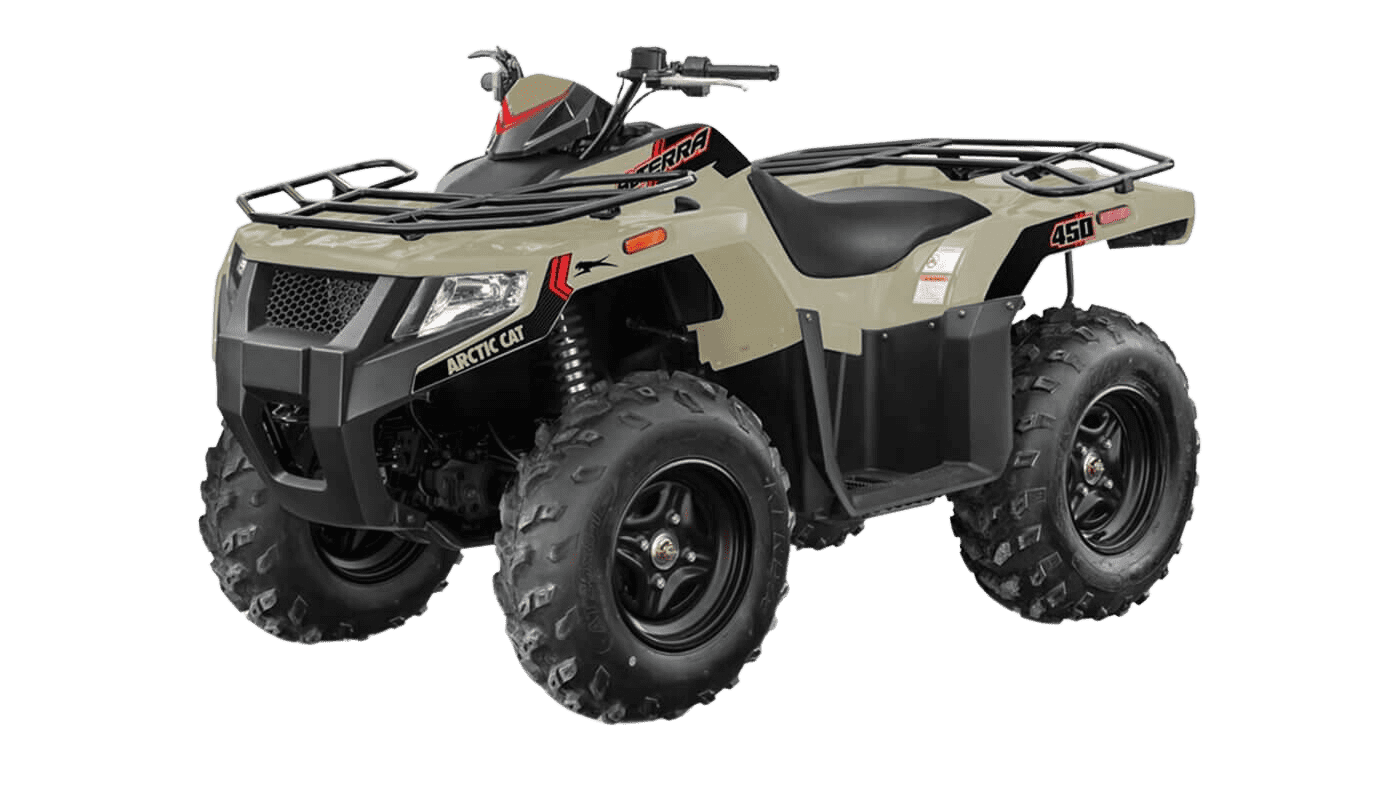 Vehicle Size and Trailer Selection
Obviously, your choice of trailer will not only depend on the weight of your ATV or side-by-side, but also its dimensions. You will want to ensure that you know the length and width of your vehicle so that you can choose the proper trailer. If you are transporting two vehicles, these dimensions must be added to obtain a total for both.
Conventional Steel
Steel does come with some advantages, including solidity and resistance. It is also a very affordable material; but its main disadvantage is being vulnerable to corrosion. Since your trailer will most likely be exposed to weather and road conditions, this is a significant disadvantage.
Galvanized Steel
Galvanized steel is also solid and affordable, but it has the advantage of being treated for corrosion resistance. Although it is a little bit more expensive than conventional steel, it offers a good price-quality ratio.
Aluminium
Aluminum is slightly more expensive than the two previous options. However, an aluminum trailer will be lighter and generally offer an excellent payload capacity. Contrary to steel, aluminum is naturally resistant to rust and is quite durable. All will depend on your needs and budget!
The best vehicles to carry your ATV or side-by-side
Several SUVs offer the necessary solidity and strength to tow an ATV or side-by-side. If your list of priorities does not only include power, but also comfort and technologies, then Lexus will provide you with models that are both performant and luxurious.
The RX, for example, offers a 3,494 pound (1,585 kg) towing capacity, which is plenty to tow most ATVs. If you want to know more, take a look at the Lexus RX 350 and its price! In the same family, you will find the GX and LX, both larger and with a greater towing capacity.
As for SUVs, you will also find off road models like the Jeep Grand Cherokee and Wagoneer, both with impressive capacities. Trucks like the RAM 1500 and Ford F-150 also cater to greater needs, with towing capacities that can reach over 13,228 lbs (6,000 kg).
Do you have a preference for Japanese reliability? Toyota also offers the Sequoia SUV, with a 8,995 pound (4,080 kg) maximum towing capacity, or the Tundra truck, with a 11,200 pound (5,080 kg) maximum towing capacity.
Would you like to get a clearer ides of the best vehicles to tow you ATV or side-by-side? Here are the maximum towing capacities for 20 SUVs and trucks, to help you see more clearly:
| Model | Maxium Towing Capacity | Maximum Payload |
| --- | --- | --- |
| Honda Pilot | 3,500 lbs (1,588 kg) | 1,500 to 1,673 lbs (680 to 759 kg) |
| Lexus NX | 2,000 lbs (907 kg) | 1,345 lbs (610 kg) |
| Lexus RX 350 | 3,495 lbs (1,585 kg) | 1,334 lbs (605 kg) |
| Lexus GX | 6,500 lbs (2,948 kg) | 1,411 lbs (640 kg) |
| Lexus LX | 8,000 lbs (3,630 kg) | NA |
| Toyota RAV4 | 3,505 lbs (1,590 kg) | 1,100 to 1,127 lbs (499 to 511 kg) |
| Toyota Highlander | 5,000 lbs (2,268 kg) | 1,300 lbs (590 kg) |
| Toyota 4Runner | 5,000 lbs (2,268 kg) | 1,625 lbs (737 kg) |
| Toyota Sequoia | 8,995 lbs (4,080 kg) | 1,411 lbs (640 kg) |
| Nissan Armada | 8,500 lbs (3,856 kg) | 1,574 lbs (714 kg) |
| Subaru Ascent | 5,000 lbs (2,268 kg) | 1,350 lbs (612 kg) |
| Jeep Grand Cherokee | 6,200 lbs (2,812 kg) | 1,265 to 2,485 lbs (574 to 1,127 kg) |
| Jeep Wagoneer | 9,603 lbs (4,536 kg) | 1,418 lbs (643 kg) |
| Cadillac Escalade | 8,000 lbs (3,629 kg) | 1,483 to 1,777 lbs (673 to 806 kg) |
| Ford Expedition | 9,200 lbs (4,173 kg) | 1,757 lbs (797 kg) |
| Toyota Tundra | 11,200 lbs (5,080 kg) | 1,942 lbs (881 kg) |
| RAM 1500 | 12,750 lbs (5,783 kg) | 1,450 to 2,207 lbs (658 to 1,001 kg) |
| Ford F-150 | 14,000 lbs (6,350 kg) | 1,715 to 2,210 lbs (778 to 1,002 kg) |
| GMC Sierra 1500 | 7,680 to 12,200 lbs (3,483 to 5,534 kg) | 1,310 to 2,270 lbs (594 to 1,030 kg) |
| Chevrolet Silverado 1500 | 12,100 lbs (5,488 kg) | 1,850 to 2,400 lbs (839 to 1,088 kg) |
This list is non exhaustive. Ask your local dealership for more details.
What hybrid vehicle should you choose to tow your ATV
Is it possible to tow, while being fuel efficient? The answer is: absolutely! SUVs like the 2023 Toyota Highlander hybrid can tow up to 3,500 pounds (1,588 kg). You will also find other performant vehicles with Toyota, or other competitors, like with the Jeep Grand Cherokee and Ford Explorer, both with hybrid versions. They offer a 5,020 lbs and 5,000 lbs (2,277 kg and 2,268 kg) towing capacity, respectively. Here are a few good choice of hybrid SUVs for towing: 
| Models | Towing Capacity | Payload |
| --- | --- | --- |
| Toyota Highlander hybrid | 3,500 lbs(1,588 kg) | 1,448 to 1,558 lbs(657 to 707 kg) |
| Toyota Sienna | 3,495 lbs(1,585 kg) | 1,347 to 1,525 lbs(611 to 692 kg) |
| Toyota RAV4 Prime | 2,500 lbs(1,134 kg) | 1,230 to 1,296 lbs(558 to 588 kg) |
| Hyundai Santa Fe hybrid | 2,000 lbs(907 kg) | 1,374 lbs(623 kg) |
| Kia Sportage hybrid | 2,000 lbs(907 kg) | 1,051 lbs(477 kg) |
| Ford Explorer hybrid | 5,000 lbs(2,268 kg) | NA |
| Lexus RX 350 h | 3,495 lbs(1,585 kg) | 1,323 lbs(600 kg) |
| Jeep Grand Cherokee 4xe | 6,000 lbs(2,722 kg) | 1,265 to 2,485 lbs(574 to 1,127 kg) |
This list is non exhaustive. Ask your local dealership for more details.
Important things to know when transporting your motorized sports vehicle on the road
What does the law have to say about transporting a motorized sports vehicle? SM Sport gives you the main rules and regulations.
Registration
Even if your all-terrain vehicle is only used on designated paths, law states that it must be registered. Renewing your ATV and side-by-side registration is done during the month of March. The license plate must be on the vehicle.
Take note that it is possible to be partially reimbursed if you store your vehicle for a season, which can be advantageous if you don't use it year round.
However, registration does not include insurance; you must also have a liability insurance that covers a minimum of $ 1,000,000.
Brakes on your trailer
When are brakes necessary on a trailer? Can you have a trailer without brakes? Article 244 of the Highway Safety Code states two conditions that determine the obligation –or lack thereof- of having brakes on a trailer. 
If the total weight of the trailer and cargo are under 2,866 pounds (1,300 kg), then you do not have to equip yourself with brakes.
However, if total weight is under 2,866 pounds (1,300 kg), but that it represents more than half of your vehicle's net weight, your trailer must be equipped with brakes.
An independent brake system allows to ensure that braking force is sufficient to bring the vehicle and trailer to a complete stop, safely.
Dimensions
Even if your vehicle is very powerful and offers a significant towing capacity, the length of the trailer falls under a set of rules and regulations. A length of 19 m maximum, behind your vehicle, must be respected.
In the province of Quebec, you are allowed to tow two vehicles, like a caravan and another trailer (containing your ATV, for example), as long as you respect the maximum length stated by law. However, you must be mindful; this is not allowed everywhere!
Driver's license
You do not need a specific driver's license to drive your vehicle when a trailer is attached to it. However, when driving your ATV or side-by-side, you can drive it as long as you have a valid driver's license or probationary license, regardless of class.
This means that youth under 16 years of age are not authorized to drive this type of vehicle. If they have a learner's permit, then you must ensure that you are applying and respecting the conditions stated by this type of permit.
Other than the driver's license, you must have in hand a valid Right of Access to the ATV trails.
Mandatory Equipment
When driving your all-terrain vehicle, you must respect certain rules regarding mandatory equipment. On the one hand, you must wear a protective helmet which is in compliance with the manufacturing standards as stated by the SAAQ. The helmet must have either a visor or protective goggles. You must also have closed footwear (boots or shoes).
On the other hand, your vehicle must be equipped with:
A white headlight
Red taillights and rear brake lights
Braking and exhaust systems
A speedometer
A rear-view mirror attached to the left side of the vehicle
For more information regarding rules and regulations, visit the SAAQ website.
SM Sport is here to guide you in the purchase and maintenance of your all-terrain or sports vehicle. Take a look at our inventory or contact us for more information!